Coastal 101
|
Home & Garden
|
Product Spotlight
|
July 31, 2023
Watering Trough Uses
Steel and plastic water troughs (also known as stock tanks), available in all shapes and sizes, are designed for one purpose: watering livestock. That is, until someone crafty comes along and turns those troughs into something new. If you have an old trough or you've been looking for a good reason to buy a new one, we have some upcycling ideas that recently caught our attention.
Quick-and-Easy Coffee Table
Let's start with one of the easiest trough transformations. First, you'll need a stock tank that is at least 2-feet deep. The longer models work best. Now, simply turn the trough over. Voila! Instant outdoor or indoor coffee table and no coasters required. You can gussy yours up by painting the top. Add rubber or felt cushions to the bottom so you don't scratch your flooring.




Country Christmas Tree Skirt
Smaller, round troughs are perfect for this quick transformation that adds a touch of country to any Christmas. Just turn your trough upside down and place your tree and stand on the galvanized tub. Santa will be so impressed.




The Cooler
Add some country flair to your next outdoor get-together. Simply fill a trough of any size with ice and then pack it with your favorite beverage.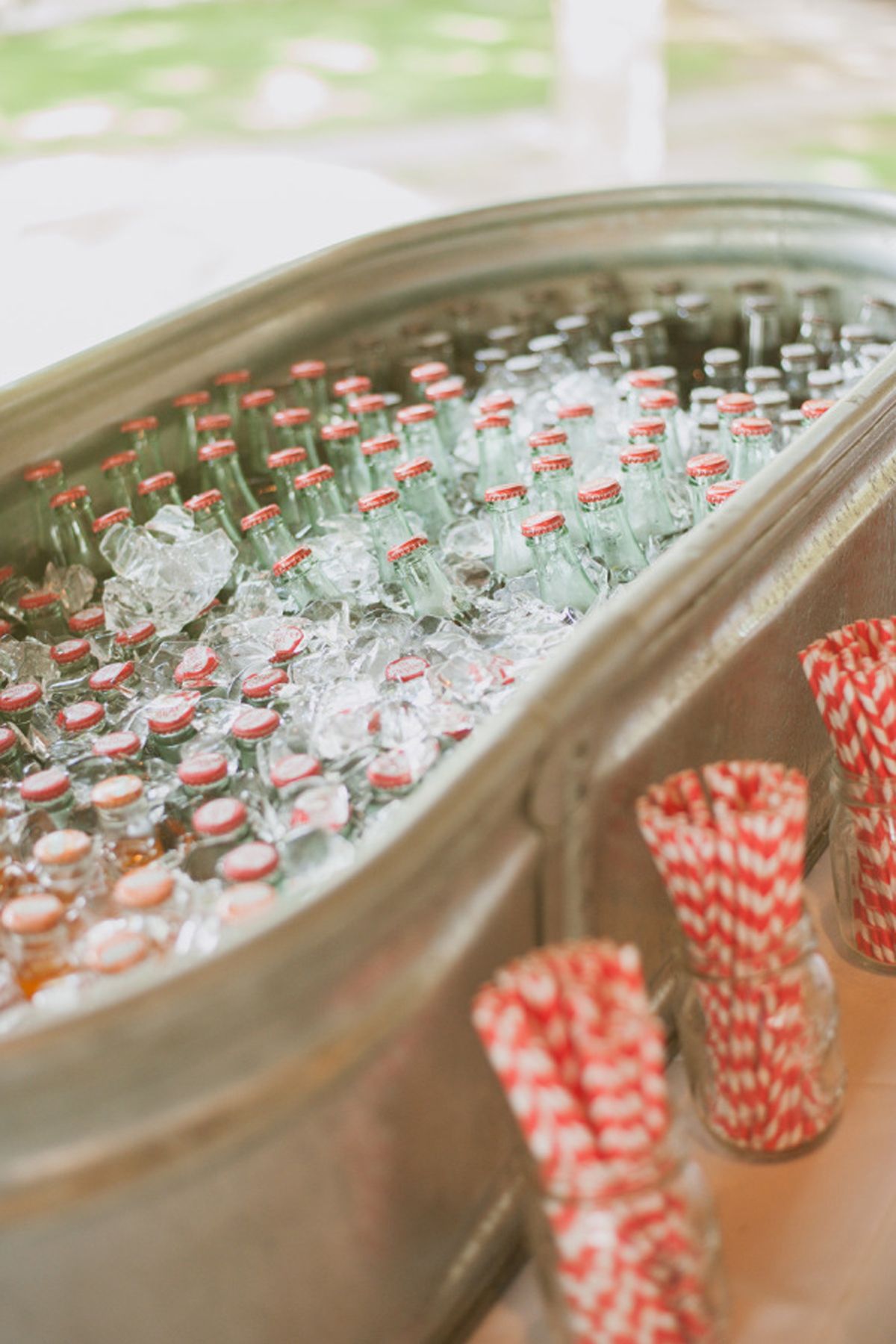 Raised Garden
Turning a trough into a raised garden is one of our favorites. First, you'll want a longer trough that measures 2'x6' and is at least 2-feet deep. Start by painting the outside of the tub any color you wish – maybe something to match your landscaping or lawn furniture. Just be sure to use metallic exterior paint.
While your tub is drying, find a good spot for it in your yard. Sunlight is important, but remember that your metal tub will heat up. Plants could get damaged if it gets too hot.
Drainage is also important. To help with the drainage, dig a shallow (3-inch) area that is a foot larger than your trough in each direction. Now, fill that hole with gravel. That gravel area will act as a drain field.
Next, drill drainage holes in the bottom of the tub. If your trough comes with pre-installed, side drainage holes, you can skip this step. Once you're done, place your trough on your bed of gravel. Now add several inches of gravel to the bottom of your trough and top that with soil cloth to keep your dirt from washing away. Finally, top everything off with nutrient-rich garden soil and start planting.





Koi Pond
When making a koi pond, you'll want a larger trough. Start by leveling out an area in your yard, place your tank in that level area, and then fill the trough with clean water. Allow that water to sit for up to four days. This gives the chlorine and other metals in your water time to evaporate. If you're on a well, you might not have to wait as long.
Once your pond water is ready, go out and find your pond plants. You'll want oxygenators (plants that are submerged), plants called marginals that sit on the water's edge, and lilies.
Your plants will already be potted perfectly so that all you'll need to do is place them at the right depth in your pond. Of course, you're welcome to repot them into something more decorative. Just be sure the pots are clean.
Oxygenator plants go on the bottom of the tank. Next, build some platforms from cement blocks or overturned pots at the water's edge and place your marginal plants on those. Only the base of the plant should be underwater. And finally, add your lilies at the bottom of the tank and allow the leaves to float on top. Use more blocks if the lilies don't quite reach the surface.
Lilies are great at reducing algae, but adding a garden water pump to your pond will keep mosquitos at bay. It will also make it more hospitable for fish.
When everything is set up, go out and get your fish. Koi are a wonderful addition, but for ponds on a budget, hardy goldfish can be just as fun. Best of all, feeing those fish is unnecessary in the spring and summer thanks to all of the insects. Thank you Mother Nature.
Ready to put your imagination and craftiness to the test? Coastal has plenty of stock tanks to get you started. We might even have some ideas on how to improve on your trough transformation. Stop by your nearby Coastal Farm & Ranch and go home with everything you need.





Quick Facts
Today's water troughs are made from steel that is welded or bolted. Troughs also come in fiberglass, concrete, stone, and plastic.
Some turn-of-the-twentieth-century troughs were designed to allow animals of all sizes to get a drink, from horses and cattle, to small birds, coyotes, rabbits, and even mice.
Australians Annis and George Bills funded the installation of nearly 500 watering troughs throughout the U.S., Australia, Ireland, and England in 1927. Many still carry the inscription "Donated by Annis and George Bills Australia."
The water trough and underground drain were first patented by John G. Brown of Van Gleve, Iowa on June 28, 1881.